Second-half goals from Fabinho, Luis Díaz and Sadio Mane sent Liverpool to the final after they had trailed 2-0 at the break in Spain.
Read More :Premier League: Everton Beat Chelsea 1-0
Jurgen Klopp's Liverpool recovered from 2-0 down to win at Villarreal in their Champions League semi-final second leg and progress 5-2 on aggregate, reaching a third final in five years.Liverpool have reached a tenth final of this competition.
Read More : Premier League :Ronaldo Shines ;Manchester United Beat Brentford 3-0
Liverpool are the first side to win all 6 away games in a Champions League season, group stage to final.
Liverpool have scored two or more goals in 11 of their 12 Champions League matches this season.
Jurgen Klopp leads Liverpool to the Champions League final for the third time,2018,2019 and 2022.
The general consensus was that Villarreal needed to score first, preferably early on, and they did just that in front of an ecstatic Estadio de la Ceramica crowd.
Pervis Estupinan's arcing cross in the third minute caught Liverpool out at the back post with Etienne Capoue prodding the ball back for Boulaye Dia to tap in.Dia's third-minute strike is Villarreal's quickest home goal in the UEFA Champions League.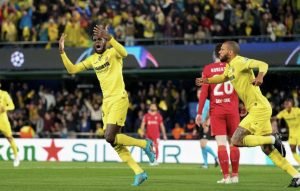 Jurgen Klopp's team were uncommonly flustered in possession and Villarreal exploited their nervousness again four minutes before the interval to level the tie. Capoue was again the creator, turning adroitly on the byline before clipping a cross to the back post, where the towering Francis Coquelin escaped the attention of Trent Alexander-Arnold to glance in.
Coquelin's goal was his first in the Champions League and only his second in European competition in his 62 appearances. His only other goal in Europe was for Freiburg versus Slovan Liberec in November 2013.
However, Unai Emery's team could not maintain their intensity after half-time and Liverpool turned the tide. Alexander-Arnold's deflected shot had already clipped the bar before Fabinho struck in the 62nd minute, drilling his low shot through the legs of Geronimo Rulli. It was a blow from which Villarreal never recovered.
Fabinho scores his first UEFA Champions League goal for Liverpool and only his third in 63 games in the competition. It's his first in the competition since he found the net for Monaco against Manchester City in the round of 16 in 2017.
Five minutes later, half-time substitute Luis Díaz levelled on the night by heading in Alexander-Arnold's cross.
Sadio Mane galloped away to complete the turnaround after reaching a through ball before the onrushing Rulli.
Mane's goal was Liverpool's 139th of the campaign. It set a new club landmark for most goals scored in a single season.. It set a new Liverpool's record for most goals scored in a single season, breaking their tally of 138 from 1985/86.
Mane is now the top African scorer in the Champions League knockout phase.His tally of 15 moves him ahead of Didier Drogba.
Fourth final in 2022 for Sadio Mane which includes Africa Cup of Nations,English League Cup,English FA Cup,Champions League.
Capoue's late red card compounded the hosts' misery.
Player of the Match: Liverpool's Luis Díaz:"Díaz made a major impact that changed the game. He scored and was a constant threat."UEFA Technical Observer panel.
Villarreal defender Raul Albiol said ,"It wasn't to be tonight but the effort our team put in was incredible, immense. Their first goal did us so much damage. We paid dearly for the huge effort we put in during the first half when we played so well. We dropped our level, physically, after the break and we were made to pay for that."
Villarreal striker Gerard Moreno said ,"We really have to be proud of what we've done here because the team believed and kept on giving everything right until the final whistle. We played incredibly in the first half – maybe our best ever first half."
Villarreal coach Unai Emery said ,"The first part of the game was what we had talked about and planned for in our most optimistic scenarios. But we still ended up needing a little more. In fact we needed the perfect game – particularly defensively.
The first half we really were exceptional. It was a display to truly give us hope. At half-time we knew Gerard Moreno was struggling and feeling his injury, but we really wanted to keep him on for as long as possible. But he couldn't sprint. And our efforts lost force a little.
We needed to be on the ball more, we needed to control possession. But in the second half we didn't quite have the capacity to respond to a really impressive Liverpool.
We'd even talked about how to handle it if Liverpool somehow got back to 2-2. But without Danjuma available and then without Gerard we lost a great deal. We didn't have that capacity to fight back – we had fewer answers. But although we haven't quite been able to take that last step to the final, we must continue on this path we are on."
Unai Emery and his Villarreal team made sure tonight wasn't plain sailing for Liverpool.

A team that never gives in 💛

🎙 @TheDesKelly #UCL pic.twitter.com/Qa3b9CjQC2

— Football on BT Sport (@btsportfootball) May 3, 2022
Liverpool defender Trent Alexander-Arnold said ,"We never picked up any of the second balls at all in the first half. They played the game they wanted to and we allowed them to do that. In the second half we played the way we needed to play. One poor half over two legs, we can allow that as long as we get the job done."
Liverpool defender Virgil van Dijk said , "The first half we should forget as soon as possible. On the ball we weren't good enough. The early goal didn't help us and it helped them massively, so we had to dig deep and be very mature. Second half we played outstandingly. We won the ball back as quickly as possible and it was difficult for them to keep up with the pace and runs. It was a deserved win based on the second-half performance."
Liverpool coach Jurgen Klopp said ,"At half-time I told them that they had to play better in the second half than we did in the first. I told my assistants to find an example of something we did right in the first half that we could show the players to remind them, but my guys told me 'Nope'. So I just told the guys that they needed to find more space, we needed more flexibility and to stop playing into their hands on their man-marking tactic.
What an incredible stadium, what incredible work Unai is doing here and they played incredibly well but we deserved this. I told my players I wanted headlines the next day about the mentality monsters had been in town. You could see how impressed we were with them in the first half and to come back and win in the second is really impressive. It feels like we've played 500 games this season so to do this is immense.
It's outstanding. We made it pretty tricky for ourselves. We knew before these kind of things can happen. In life, it's always about how you react when things don't go your way.
Respect to Villarreal. The stadium, team, coach – it was unbelievable what they set up. They put us under pressure but we didn't play football at all. We had to start playing football, and all of a sudden when we broke the lines, we were in the game, scored goals and made it happen.
We knew what was wrong at half-time. It was a big half-time, but it's more important how the boys reacted. We were just not flexible enough [in the first half]. We had to mix it though. We had to change it.
I will watch it. Whoever it will be, it will be massive. Not that I would wish for one or the other. Whoever wins tomorrow night will deserve it, then we face each other in Paris.
The whole world at half-time thought 'this is more 3-0 than 2-1' but we are still here. I knew when I saw our first movements in the second half we could turn it around, but we still had to score! It has been massive – really, really special."
"I told the boys 'yes they have momentum, but they don't own it!'"

"It's not about who came on it was how we started then playing."

"Whoever the #UCL final will be, it will be massive."

Jürgen Klopp explains how he got a reaction from the Reds tonight 🔴

🎙 @TheDesKelly pic.twitter.com/IyE5lIM8hh

— Football on BT Sport (@btsportfootball) May 3, 2022
Topics
Champions League Liverpool Villarreal Football Sports Kolkata