FC Bayern sent a message for peace and solidarity with the people in Ukraine before and during the Bundesliga match against Bayer 04 Leverkusen at the Allianz Arena.
"It's very difficult to focus on football with all the horrendous images of war we're witnessing daily. We all never imagined we would see something like this happen again in Europe. This war must stop! We came up with several ways to show that our thoughts are with the people of Ukraine during today's match. We have also launched a fundraising campaign, together with SOS Children's Villages, to which we donated €100,000. I spend a lot of time thinking about how you can put football in relation to these things and images that we see every day. It's difficult, but we, like many people, have to continue doing our job, which we are doing as professionally as possible",said FC Bayern CEO Oliver Kahn.
Before kick-off, a banner reading "STOP THE WAR!" was unfurled in the centre circle. Both teams also entered the stadium in blue and yellow jackets, Ukraine's national colours, and then gathered together for a minute's silence.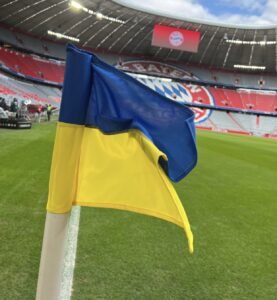 The boards and video screens around the ground were illuminated in the colours of Ukraine. The corner flags were also adorned in yellow and blue. In addition, FC Bayern's stadium Allianz Arena lit up in blue and yellow on Saturday evening.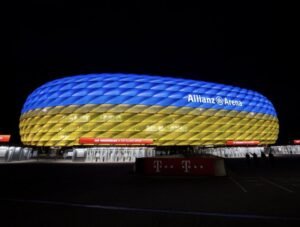 Topics
Russia Ukraine FC Bayern Olive Kahn Football  Sports  Kolkata